Welcome to our online store!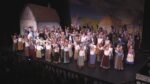 Marilyn Izdebski Productions
Jazz, tap and musical productions!
Personal History Interview Kits
Well thought-out and very complete kits for creating personal histories for your family.
Cali Calmécac Language Academy
Windsor School District's bi-lingual immersion school Cali Calmécac Language Academy celebrates the arrival of Spring with shows featuring student performances of classic and contemporary dances from Mexico, South America, the Caribbean, Africa and Russia.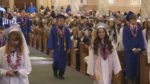 St. Vincent de Paul High School Commencement Videos
We've been capturing St. Vincent de Paul High annual commencement exercises for over 20 years. Here you'll find DVDs of every commencement we've recorded.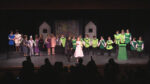 Marin Montessori School
Each year, selected classes at Marin Montessori School stage plays and musicals — and do it incredibly well in a very short period of time.
Piedmont High School
Piedmont High School's Drama and A Capella performance classes stage very high quality yearly productions. We've been privileged to capture a number of these recently and are proud to present them here.